IMPORTANT MESSAGE from FamilySurvivalKit.org
One-Time Offer For Friday 22, 2013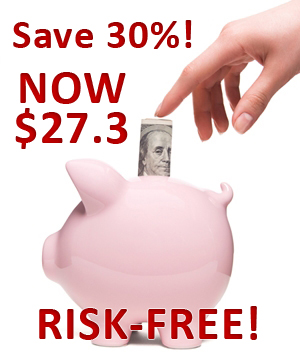 (1-time offer, $11.70 Discount For: Friday 22, 2013)
Here's Your Iron-Clad 60 Day
Money Back Guarantee
Try The Long-Term Family Survival Course for FREE for the next two months. Study it and see if it meets your needs... and if there's something (anything!) that you're not thrilled about, just send us a quick mail at support@familysurvivalcourse.com and you get your money back – the entire purchase price!
>> Try The Family Survival Course Risk-Free! <<
With your major 30% discount, you now get the COMPLETE 136-page Long-Term Family Survival Course and...
Quickly build a

2-month stockpile

for your family PLUS a

permanent food source

that will guarantee your family will survive the coming crisis...no matter how long it will last!
Make your own

clean water

at home... without spending your money on expensive retail filters... and without having to buy bottled water ever again!
Produce your own

energy

, in case the grid fails and leaves you in pitch dark for weeks... or even months (It only takes you 2 short days... and no more than $300)
Get meds for nearly any illness (including diabetes, ulcer and even mercury intoxication!)... for a dirt-cheap price... without even going to the pharmacy (you don't want to support the billion dollar pharma industry!)
Click Add To Cart now to get The Long-Term Family Survival Course at only $39 $27.30!
Better grab this offer while it's still available, because this unique survival course has been valued at $592 by some of the world's most experienced survivalists.
Take a look at what they say about The Long-Term Family Survival Course:
"I've been to Jason's workshops before and it was completely life-changing... but this course actually exceeds their value. It's THE must-have survival course!"

Jack Koll, passionate bushcraft since 1998
"Can't believe Jason actually revealed everything he learned in 23 years of service... now that's what I call serving the country: helping American citizens in need!"

cpl. Lance Rogerson
"Mind – Blown. This survival course should have its own statue. It's definitely one of a kind"

Grey Carson, survival trainer
"Before reading this, I used to sleep like a baby thinking I'm prepped to the teeth... Now I sleep like a baby because I AM prepped to the teeth!"

Roger Keysen, author of survival blog